East Stirlingshire Pony Club Stable Management Courses
2017 has been another busy year at the yard for East Stirlingshire Pony Club with ten separate stable management sessions being held in early Spring, mid Summer and late Autumn (February, March, July, November and December). Up to 30 children attend these sessions where the children are split into small groups with each groups being led by a British Horse Society Accredited Coach. The children all get the opportunity to achieve a variety of achievement and mini-achievement badges as well as training towards the Pony Club Efficiency Tests with the aim of helping them to improve their knowledge as well as their ability to look after their own horse/pony. Although these sessions are all dismounted, they take place on the stable yard and do sometimes involve handling horses/ponies. Children who would like to attend these sessions do not need to keep their horse/pony at Langlands Livery Yard and do not even need to have a horse/pony of their own but they are required to be members of East Stirlingshire Pony Club to attend these sessions and should contact the branch District Commissioner directly using the contact details on the East Stirlingshire Pony Club website.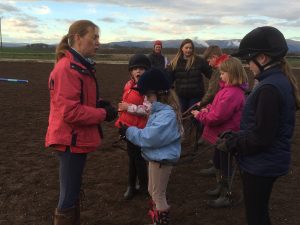 Horse Owner's Certificates/Essential Horse Knowledge Courses
There are no short courses planned for 2018.
The most recent Short Courses saw all 4 Levels of the Horse Owner's Certificate courses completed. These courses were very popular and fully subscribed, covering a variety of subjects including: Stable Management; Horse Health; the Foot & Shoeing; Anatomy & Physiology (Skeletal System, Muscular System, Digestive System, Circulatory System and Respiratory System); Nutrition & Feeding; Tack; Teeth & Ageing; Stable Vices; Stable Design; and Grassland Management. Very well done to those completing their Horse Owner's Certificates as follows:
Level 1: Hazel Donaldson; Jim Flynn; Debbie Forbes; Kimberley Frogley; Rachael Hotchkiss; Lisa McFerran;  Francesca Porco; and Sharon Porco.
Level 2: Hazel Donaldson; Rachel Finch; Jim Flynn; Kimberley Frogley; Rachael Hotchkiss; Sharon Porco; Francesca Porco; Audrey Stevenson; Ceri Stoddart; and Jamie Stoddart.
Level 3: Hazel Donaldson; Emma Duff; Rachel Finch; Steve Frampton; Rachael Hotchkiss; Petra Humphrey; Francesca Porco; and Ceri Stoddart.
Level 4: Emma Duff; Steve Frampton; Rachael Hotchkiss; Petra Humphrey; Francesca Porco; Ceri Stoddart; and Mellanie Wallace.
The new Essential Horse Knowledge Certificates (which will be delivered at Entry Level and Level 1) have now replaced the Horse Owner's Certificates. For more information on this please click on the following link: The British Horse Society Essential Horse Knowledge Certificate